How to Detect Radon in Your Home | Radon Action Month
When it comes to gases in the home, this isn't something you can see to believe. The most dangerous gases lurking in people's homes are invisible, such as carbon monoxide and natural gas. Radon is no exception. Colorless and odorless, radon is a big threat with simple solutions.
There are precautions that can be taken that will eliminate its threat. If you have not yet taken these steps and are interested in investigating the health of your home, this blog is for you. Learn how to detect radon in your home and keep your family safe from the side effects.
Source: EPA
January is National Radon Action Month. According to the Environmental Protection Agency (EPA), January is the time to "Test, Fix, Save a Life." As we look to make our bodies and our homes healthier this new year, testing for radon should be high on your list.
Radon
According to the EPA, radon is the leading cause of lung cancer in nonsmokers, as well as a source of radiation. It causes more than 20,000 lung cancer deaths per year in the United States and affects 1 out of every 15 homes. By testing for radon in your home, you can decrease your risk for potentially deadly effects.
What is radon?
From the radioactive decay of radium, an element found in the ground (rocks and soils), comes radon — a naturally occurring noble gas. Radon is radioactive, colorless, odorless, and tasteless.
One way radon enters indoors is from the ground underneath your home. Radon concentration in the home can reach over 100 times the level found in outdoor air.
Source: All American Radon, LLC
What are the effects of radon?
Lung cancer is the most obvious and significant effect. Long-term exposure to radon will produce cancer due to cell damage in the lungs. Radon is directly linked to cigarette smokers, although you can still get lung cancer from radon even if you have never smoked before. If it's in your home, it's in your lungs.
How to test for radon:
Testing for radon is a fairly quick DIY task. Be a radon detective by purchasing a radon test kit.
Testing for radon only takes a few minutes and is effective in detecting radon levels in the home. Visit the EPA or Amazon to access low-cost home radon test kits.
Source: Wikipedia
Source: Wikipedia
January Spotlight on Radon
January is National Radon Action Month. Visit the EPA website for detailed information about National Radon Action Month and to access a radon map.
Radon kills more than 21,000 people each year and is the leading cause of cancer in non-smokers. Learn how to stop: https://t.co/PUgnBtSnhW

— U.S. EPA (@EPA) January 17, 2017
Locate Washington on the map and find your county. The map divides each state into Radon Zones, and tells you which communities are the most vulnerable (indoor radon screening levels greater than 4 pCi/L) in the state.
Source: emsl.com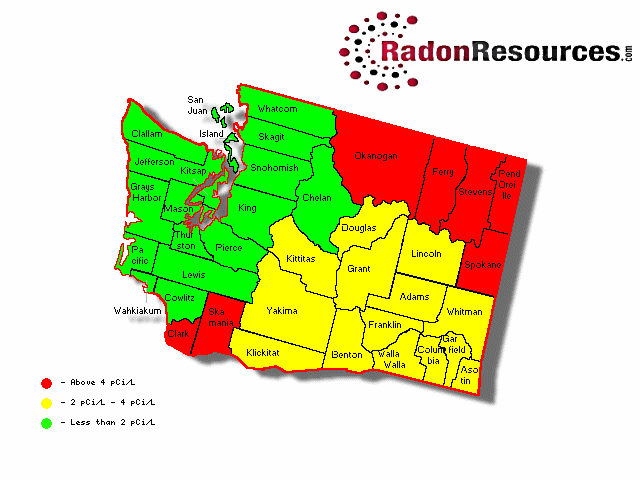 Source: radonresources.com
Future Prevention
The top 4 ways to reduce the amount of radon in your home over the long run are as follows:
Sub-slab depressurization, something called 'soil suction,' by increasing underground ventilation.
Radon will most likely come from the basement to the living rooms. Improving ventilation in the home will decrease the amount of radon accumulation.
Install a radon sump pump in your basement to fight away radon as it enters.
Install a positive pressure ventilation system.
For further information on fighting the dangerous accumulation of radon in your home, contact Pacific Air Systems. Radon is the largest source of radiation for Washington inhabitants. It's important to know if your home and family is vulnerable to its cancerous effects.
Remember, radon is a big threat with simple solutions. We offer full-service indoor air quality inspections that cover more than just radon. There are other gases in your home, including carbon monoxide and natural gases that can also have a negative effect on your health and happiness.
Additional Resources: 
---
Pacific Air Systems offers year-round HVAC and humidifier services.
Contact Pacific Air Systems Heating & Cooling at 253.292.3995 for 24/7 service (holidays included)!
Since 1984, we've been proudly serving our communities in Federal Way, Graham, Spanaway, University Place, Steilacoom, Sumner, Lakewood, Puyallup, Tacoma and Gig Harbor.
Follow us on Facebook, Twitter, and Google+ for more useful tips and tricks for maintaining a safe and efficient home.